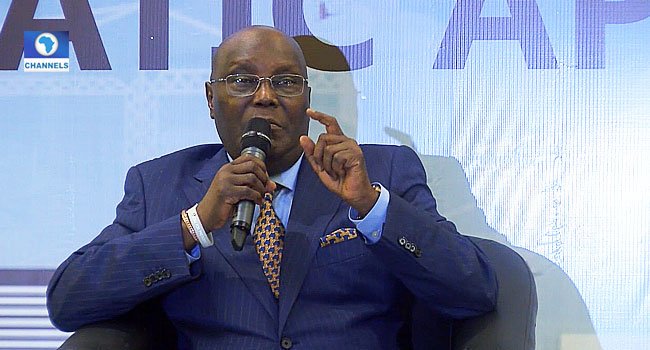 Former vice President, Atiku Abubkar, yesterday revealed that he would privatize the Nigeria National Petroleum Corporation(NNPC) if elected into the country's highest political office in the forthcoming election.
Atiku who is the presidential candidate of the Peoples Democratic Party (PDP) made this declaration on Channels Television yesterday while fielding questions from business community in Lagos at an event tagged Getting Nigeria's Economy Working : A Pragmatic Approach.
His declaration has sparked reactions from Nigerians as they have been on twitter handle calling him out.
What they are saying:
Nnpc is about to sold to friends if some people come to power. Every human being that is planning to sell our only major source of income in this country to friends when they come to power. They shall lose the election ijn

— doctormayor (@iam_doctormayor) January 17, 2019
The only one major resources we have as a country Atiku proposed to sell the NNPC to its friends.
God forbid o!

— joshua (@pingjosh) January 17, 2019
#Atiku said he will reduce the size of the FG & Privatise FG assets including NNPC?
Which means he will sack a lot of FG workers just like NITEL etc.
Selling major government assets indirectly means the new owners can hold the country & economy to ransom at any time.

It is well.

— Aibinuola (@1vitalsplash) January 17, 2019
Atiku is very daring and disrespectful to Nigerians. Imagine the rat in the cupboard threatening the owners of the house with rat poison that should kill him! He will sell NNPC even if it would cost him his life… He will enrich his friends… The man is a political terrorist!

— Joseph Muagba (@JMuagba) January 17, 2019
The post Here Is What Nigerians Are Saying After Atiku Vow To Sell NNPC If Elected Into Power appeared first on INFORMATION NIGERIA.