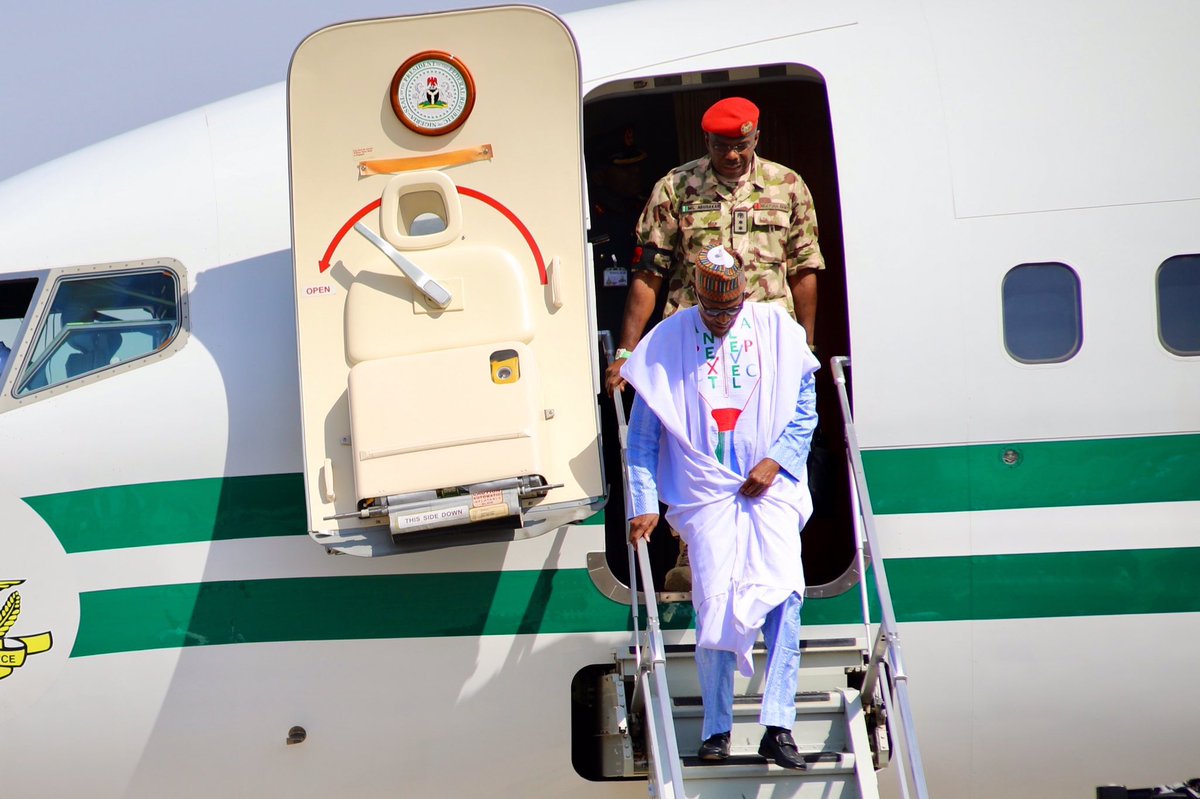 President Muhammadu Buhari, Vice President Yemi Osinbanjo and other APC leaders were earlier today in Borno state to canvass for votes ahead of the forthcoming general election election scheduled for next month.
Buhari who was welcomed by a teeming crown at the campaign ground is seeking re election for a second term in office under the platform of All Progressive Party(APC).
What they are saying:
With the large number of people coming out to support @MBuhari on a Monday morning , it just shows that many people are unemployed. Religion and tribalism will keep on blocking this people eyes #PMBInBorno #PMB4Plus4 pic.twitter.com/AzNlCvvjwu

— Ibrowski (@Ibraheemaji10) January 21, 2019
some how i pitty 4 people turnin out 4 #Buhari 2day in #PMBInBorno ..of all places, we should be askin dem why do dey still kill our brodas nd sister, u said it pains, u 4got dat when u saw PDP d oda time, u called it imported crown from Niger @abdoulrahman_i are u a Nigerian?

— Kam (@UdokoguC) January 21, 2019
Another homecoming for PMB, as he campaigns in Borno State today. He was appointed Military Governor of the NorthEastern State (capital: Maiduguri) on August 1, 1975. And then briefly became the 1st Governor of Borno State when it was created in 1976. #PMBInBorno #PMB4Plus4

— tolu ogunlesi (@toluogunlesi) January 21, 2019
Navigating my way into Ramat Square, the venue where @MBuhari will flag off his campaign is becoming a problem because of the mammoth crowd #PMBInBorno pic.twitter.com/W8e4MRn1p7

— Dan-Borno (@DanBorno) January 21, 2019
#PMBInBorno if dere is any1 wu shud be bittered with @MBuhari it should be me, coz my Mom lost her job in 2015 when buhari came into power coz of recession, things have been hard sinz den witat a father, i'm in skul wit nothing, bt i still bliv in buhari #NextLevel @APCNigeria

— olaiya (@damidreynoni) January 21, 2019
The post Nigerians React As President Muhammadu Buhari's Campaign Train Hit Borno appeared first on INFORMATION NIGERIA.